When the arena team was taking to the ice for the first time, the internet was in its infancy.  Few had access to it .. and if they did download speeds were around 9600 KBPS ( as opposed to todays 30MBPS+).  That didn't stop the fans though and many websites were created over the years that can still be seen today.
The rebirth of the Manchester Storm saw an explosion of online information.
Here's our guide to what's available, starting with active pages in the new era.
The Forecast Podcast:  Post match interviews, game previews and much much more
https://audioboom.com/channel/the-forecast-mcrstorm or search on iTunes
Thunderflash: The online Manchester Storm fanzine somehow made the transition from ye olden days to the new era.
www.twitter.com/stormzeen
www.facebook.com/stormzeen
The archive pages for 1995-2002 are still online and can raise a chuckle even today at
thunderflash.manchesterstorm.co.uk
OFFICIAL WEBSITE:  The official site is at www.manchesterstorm.com
You can also follow the club on Facebook at https://www.facebook.com/McrStormOfficial
and on Twitter at @mcr_storm and Instagram @manchester_storm
Many of the original websites from the Arena years are still online.  Note that images etc tend to be small as the websites were designed to cope with very slow download speeds … and the sites weren't designed for mobile sand tablets as they hadn't been invented yet !!

Stats and opinions on the original Manchester Storm from Mike Landers
fireonice.manchesterstorm.co.uk

Player cards, desktop images and more
http://www.inthecrease.co.uk/html/theshelter.html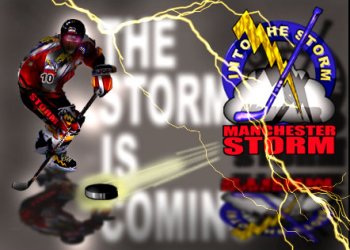 Into The Storm
Archive info,photos and the home of the original ITS forum
http://www.intothestorm.co.uk